Randy Holbrook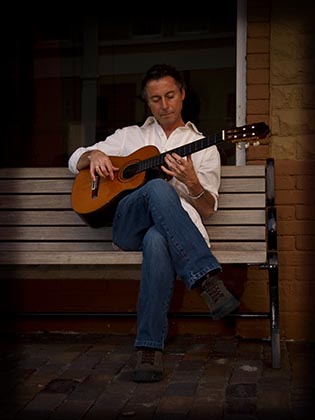 Randy Holbrook is a master guitarist with the technical skills and artist's passion possessed by only a select group of musicians. His professional career spans more than three decades, playing with his own bands and working with renowned groups as a lead guitarist.
The early years were invested in working bands ranging from 3 to 17 pieces traveling the Top 40 Rock circuit. Other appearances have included gigs with John Mayer, Liberty Divito (Billy Joel), Charlie Morgan (Elton John), Steve Winwood, and Claude McKnight.

Today Randy can be seen playing lead guitar for Off Kilter, a Celtic rock band featured at WDW's Epcot theme park. This unique group has appeared continuously at the Canadian Pavilion for more than 10 years. This strategic location gives Randy exposure to a substantial number of the 10.5 million visitors to Epcot each year. Off Kilter has released 5 CDs, all of which have enjoyed brisk annual sales.
As lead guitarist for Mechanical Soul, an ensemble offering an eclectic New Age style, Randy demonstrates his versatility on the guitar.
The "Shamu Rocks" show at Sea World showcases Randy's extraordinary talents in a solo segment with a custom-made "Shamu" Stratocaster guitar built especially for that show in a 5,300+ seat stadium.

Beyond the talents for creating rock, Randy's musicality is expressed in smooth jazz, world music, and country.

Although he has traveled throughout the United States, his home base of Central Florida provides an international exposure for a world-class talent.

Randy has performed at Disney's Pleasure Island, Universal Studios, Sea World, the Orange County Convention Center, and the four Disney Theme Parks. In addition, he has performed for Fox TV, ABC TV, The Daily Buzz, VH1, Good Morning Atlanta, the Miss America Pageant, The Wayne Brady Show, and the Hard Rock Cafe.


Downloadable Poster for Randyy